Uranium One's Resurrection
June 17, 2009
When we saw the news regarding Kazakhstan's announcement that some foreign uranium deals were illegal, and named one of Uranium One's mines in their probe we simply shook our heads. It was hardly surprising considering all that we have been through before. Although one of our favorite companies because of their commitment to bringing supply online and aggressively expanding their operations, they conduct business in risky areas and seem to consistently bet the farm.
This all brings us to today. The Kazakhstan government has said that they will not renegotiate any contracts after talking with their partners in the country but investors seemed hardly moved by this announcement and the damage was done. Many still felt that the government was going to somehow increase its grip on the mines in the country and that its previous announcement indicated that the Kazakhs were interested in not only being the world's largest producer of uranium, but owning the production as well.
It seems that Uranium One has raised the stakes. They entered into an agreement to purchase half of another uranium mine in Kazakhstan which will increase the company's production in 2010 by 35%. In exchange for this ownership stake, Uranium One will issue 117 million shares and US$90 million to JSC Atomredmetzoloto, a Russian state-owned uranium miner (another US$60 million payment is contingent on whether certain tax issues can be worked out). The other 50% of the mine is owned by JSC Kazatomprom, the Kazakh state-owned uranium miner, who also holds stakes in Uranium One's other mines.
Our perception is that Kazakh officials were sincere in their announcement that they would not change the terms of any contracts and they have already blessed the transaction. The transaction could be the reopening of Kazakhstan to capital and the house cleaning will only take part within the government and not harm those companies operating there.
Either way, Uranium One has solved one of their biggest issues, no one to go to bat for them. As a Canadian company, they were hardly Canadian with their assets in Kazakhstan and the supposed "flagship" property in South Africa. Truly it was a South African company, based in Canada, with neither country appearing willing to go to bat for them. Now the company has a bon-a-fide backer with the Russians, and our guess is that should Kazakhstan have any more issues, the Russians will straighten them out. The Russians also should allow for the sure closing of the Japanese deal by December of this year, if not sooner.
Uranium One will be a true international player with the Russian-Japanese backers, assuming all deals close. Their backers will be some of the largest uranium consumers in the world and will provide them with buyers upfront. The Japanese are investing to lock-up supply for their country's nuclear reactors. Russia is locking up supply of U3O8 to sell along with their reactors; they believe it is easier to sell a reactor if you can guarantee the fuel supply as well.
<![if !vml]>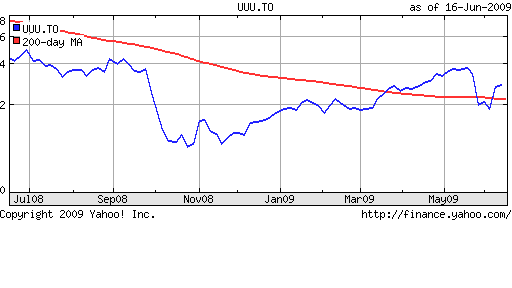 <![endif]>
Uranium One will has once again risen above its 200-day Moving Average, now it must take out C$3.00/share in order to move higher. C$3.00 has been a very important level for the stock both on the way down (where it twice provided support) and on the way up, where in the past 3 months it has provided resistance four times.
We were please to instruct our subscribers and clients to purchase shares below C$1.80 which provided two windows of opportunity for accumulation, albeit during Uranium One's darkest days. Those are the opportunities which provide investors with some of the greatest buying opportunities, but even today our stance is that Uranium One is a great buy as it is destined to be a serious international uranium producer. In the next few years it will have uranium production from Australia, Kazakhstan and the United States and should have a strong pipeline in place of projects coming online.