Potash Awakening
May 22, 2009

Over the past few months, investors' appetite for risk has increased dramatically. With that we have seen a transition back into those sectors which were hot, and had quickly become not. Our two favorite sectors here at theinvestar.com, LLC have been uranium and potash. We have been bulls on these two sectors for some time and the reasons are becoming more and more apparent in the potash industry.
Pricing power is one of the most attractive qualities for the potash industry as a whole. Canpotex is a price setter at the end of the day, certainly not a price taker. This is the Canadian marketing arm for North America's largest potash producers, in short a "cartel". Although demand has slumped in recent months due to the world slowdown, many other commodity prices have fallen dramatically and still supply outstrips demand. With the potash industry right now, yes earnings are falling along with revenues as sales fall, but fortunately the companies are not flooding the market now to get these prices and forfeiting the health of tomorrow's market. Too often we see this, but it seems the Russian/Ukrainian potash companies are on board and need not sell all of their production.
With all this said, it is easy to understand how stocks such as Potash Corporation of Saskatchewan (NYSE-POT), The Mosaic Company (NYSE-MOS) and Agrium (NYSE-AGU) have performed so well. Potash Corp. has been on a tear as of late and much as we have been evaluating our uranium companies lately, we have been using those same metrics to evaluate the potash companies we follow. We had advised those who pay for our services to buy half of their desired position in POT once it crossed and closed above US$105, which occurred Thursday May 14. The second half was to be acquired once the stock closed above US$110, which occurred on Monday May 18. We have seen the stock bounce off of the support at $105 when it came under selling pressure, which was most likely due to option traders trying to "push" the stock towards various strike prices.
<![if !vml]>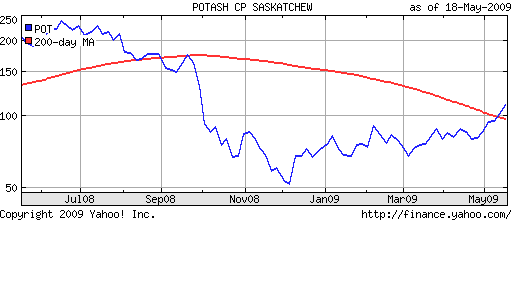 <![endif]>
Our main thesis relies on the 200-day moving average which the stock recently breached. We believe that POT is a stock where the 200-day is very important, going all the way back to when the stock sold off in mid-September. This is when the stock could not crawl back above the 200-day and this inability caused a massive sell off taking the stock from the US$200 level all the way down to US$50.
Our thesis holds up across the board, as both Agrium and Mosaic have also both crossed over their 200-day moving averages and appear to be breaking out. These stocks shall follow Potash, but it is positive to note the indicators are all flashing buy indicators to us. All three charts are eerily similar too, so our faith In them we feel is justified.
<![if !vml]>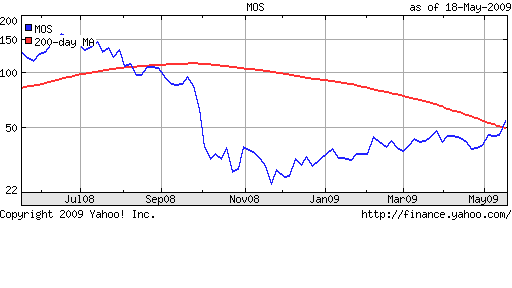 <![endif]>
<![if !vml]>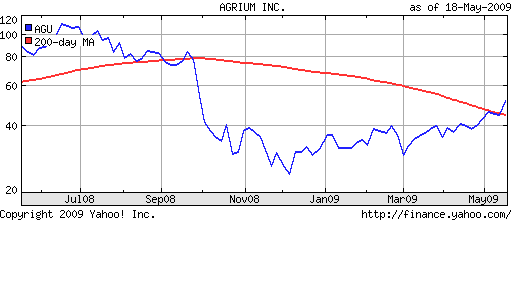 <![endif]>
We believe we are in the early stages of the rebound in potash stocks. China and India still have massive populations to feed and Brazil many acres to plant to feed the world. American farmers will continue to use potash for their corn, wheat and other grain plantings to increase yields and keep the soil from being depleted. Currently we see the leaders leading, but we believe in "trickle down" economics in markets such as these and believe that it is but a matter of time before this market momentum works its way down to the juniors. Once we arrive to those stages, there will be many fireworks to watch as the juniors awaken and begin their runs.
Any questions or comments please contact us.
If you are interested in subscribing to our monthly newsletter, please contact us and we will send you the information needed for your purchase.