A Rising Tide
April 24, 2009
The past year for uranium investors has been a painful chain of lower lows followed by further lows. Most of those late to the game in the last bull market lost their shirts and those of us with large paper gains saw those dissipate into paper losses. Our feeling is that this market is finally turning into long-term uranium bulls' favor now that credit and capital markets have thawed to their current state.
Back on November 3, 2008 we authored an article entitled, "Uranium Equities: Time to Test the Water," in which we stated that, "for the first time in many, many months we saw some strong buying in uranium stocks which was not met by even stronger selling." Our recommendation was to gently wade back in, and we supplied two stocks, Cameco and Ur-Energy. Cameco is up 18.72% from that date and we are proud to report that Ur-Energy is up a whopping 44.23%! All of this taking place during the greatest bear markets since 1929, and to take this for granted would be remiss.
Giving credit where credit is due, we would point out that our publication date hit the "nail on the head" on what we feel will prove to be the ultimate low for uranium equities. Many of our favorites have doubled or tripled since the lows set at the end of last year.
Cases in Point:
ERA (ERA.AX)
Mega Uranium (MGA.TO)
Paladin Energy (PDN.TO)
Pinetree Capital (PNP.TO)
Uranium One (UUU.TO)
After examining chart patterns for many of the uranium equities which we follow over the past month, we would point out that most, if not all, are trading above their 50-day moving averages. Also, and more importantly, a good many have 200-day moving averages that have "caught up" with the current stock price. We have often found in bear markets that when the 200-day moving average flattens out and begins to move up, you usually have an attractive entry point based on price. We would point out that we have seen some powerful price breakouts in the uranium arena when the stock price managed to break through its respective 200-day moving average.
<![if !vml]>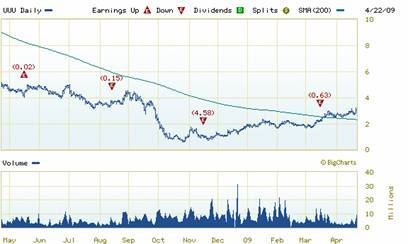 <![endif]>
Notice volume ticking up at the end of the chart, supporting this most recent leg up.
<![if !vml]>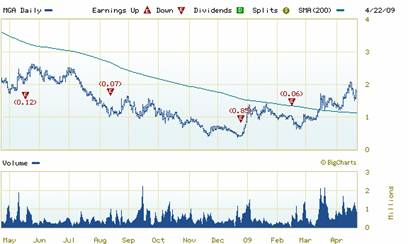 <![endif]>
Once again a break-out from the 200-day, a test of support and rising volume…all bullish signs!
Although we have our favorites and suggest juniors that are well financed with attractive late-stage projects, we would point out that the entire uranium arena is positively correlated when it comes to price movement. Simultaneously, with the improved technical outlook for uranium equities we would point out that in viewing the macro economic environment it appears that the clouds seem to be lifting a little (or at least are not as dark as they once were). Equally important is the fact that the merger and acquisition/strategic investment activity by major industry players appears to be on the rise. If the hedge-fund sell-off debacle had not rocked uraniums so hard, our bet is that many stocks would be much higher than their current prices, most likely closer to their all-time highs, and this activity confirms that today's prices are dirt cheap! All of the above support our long standing belief for long-term accumulation of uranium equities, including at this time.