Potash: Setting Up for a Rally?
Monday, June 2, 2008
Over the past few weeks it seems that volume has slowed on the potash stocks we follow as the share prices have taken a breather. Interest has waned yet share prices have found themselves in a bit of a trading range, especially when one consults a chart of Potash Corporation of Saskatchewan (POT), The Mosaic Company (MOS) and Agrium Incorporated (AGU). Not much has changed in the past few weeks, and investors understand that the fertilizer stocks will be around for a while. Right now we have some sideways movement, which could soon end.
The Wall Street Journal wrote this past week a somewhat negative story of the "cartels" which control the world's potash market. They noted that they are legalized entities in both Canada and the United States, and we all know from experience and past history that the Russians will let you do just about anything as long as you play by their rules and scratch their back at the end of the day. Farmers across the world are getting angry with prices for potash and other fertilizers, but truth be told they could not achieve anywhere close to the yields they do without it so it all falls under the category of "you gotta spend money to make money" in our book. We highly doubt that either the Canadian or United States' governments will seriously consider, let alone implement, any price caps on fertilizers. Their tunnel vision in the states is focused on oil prices and the oil majors and shall remain there as prices around the country cross the US$4.00 a gallon mark.
Something interesting we have been watching over the past week to see if it would hold is the support of Potash Corporation of Saskatchewan at around US$190. It held this week, so we feel compelled to share this chart with you along with our insight.
<![if !vml]>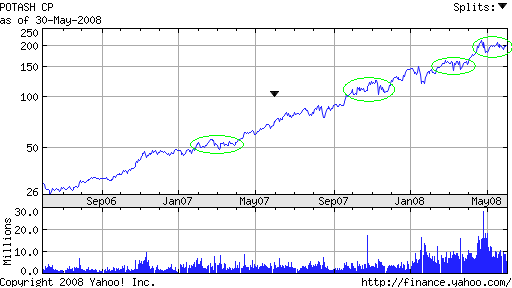 <![endif]>
Every fifty point move by the stock is met with it rising above the benchmark number, then falling back towards the benchmark for a roughly two month span before beginning a march upwards again. We have highlighted this chart going back two years which we believe gets the point across pretty well. It has been a little over a month and a half of our current sideways movement and choppy trading, so we would expect a movement one way or another in the next week or two to give us an indication of where the stock will move next.
The potash juniors have moved lower in recent trading, as is to be expected due to the leverage they afford investors. You can achieve larger percentage returns higher in good times, and larger returns to the downside in just normal and bad times. With interest waning, it is only natural that shares are falling as investors sell and move their money to "hot" sectors like the solar dry bulk shippers (as has been the case recently). Also dragging the juniors down is the fact that they are getting competition for investors' capital with new entrants into the industry over the past 2 months.
Universal Uranium (UULFF- Pink Sheets) and Utah Uranium have both moved into the potash arena in varying degrees, with Universal selling its Two Time Zone resource to Crosshair Exploration (CXZ) for 10 million shares to finance its new activities in the potash industry. Utah Uranium has staked a large block of land near Intrepid Potash's mine. Both are blue sky projects where drilling will probably not take place for at least two quarters. Also, Western Potash came public listing shares on the Toronto Venture and another private company, Intercontinental Potash Corp., sold a 50% stake to Trigon Uranium. Intercontinental Potash Corp. owns a 100% stake in U.S. Potash Corp. which holds nearly 86,000 acres in the U.S. This is another blue sky company hoping their prospecting lands pan out, but only time will tell.
We would stay focused on the major players in the industry who are producers and then those companies with historical resources or very near the prolific Saskatchewan mines. We have listed companies producing potash now, as well as some juniors with land positions around them:
Potash Producers:
Potash Corporation of Saskatchewan (POT)
The Mosaic Company (MOS)
Agrium Inc. (AGU)
Intrepid Potash (IPI)
Saskatchewan and Western Manitoba Juniors:
Athabasca Potash (API.TO)
Anglo Potash (AGU.V) * Agreed to be bought by BHP Billiton
Potash One (KCL.V)
Raytec Metals (RAY.V)
Western Potash (WPX.V)
We will be adding RSS feeds in the next few weeks to the site, so if you would like to receive our daily news on the uranium mining industry, potash mining industry, or our articles, feel free to sign up by clicking the 'Contact Us' link below.