Red Hot Yellow Cake
Wednesday, May 21, 2008
Over the past few weeks we here at theinvestar.com, LLC had speculated that uranium equities could be poised to rise higher if only they could hold recent gains and stay above support levels established in April and subsequently rise above previously established resistance levels. Our reasoning was due to the sideways trading seen in April, as depicted by TICUA our uranium equities index, the numerous charts flowing from the upper left hand corner to the lower right with very low volume near the end and the fact that when we had our first upwards movement it appeared the market "moved on a dime" accompanied by very high volume.
We also watch the financing markets very closely and had noted the recent financing news was regarding cancelled offerings and those which came in lower than expected or on unfavorable terms. When we saw companies willing to go shopping for competitors we knew something was up, and it seems to be a rising tide. Currently we have Frontier Pacific (FRP) as the target of a buyout and Khan Resources (KRI) attempting a takeover of Western Prospector (WNP). In Australia, where there are numerous uranium explorers with market caps under A$20 million, many companies have been selling stakes at or above 10% of the shares outstanding to outside investors.
<![if !vml]>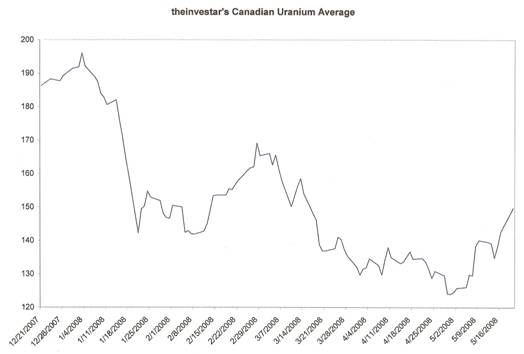 <![endif]>
Theinvestar's Canadian Uranium Average is up strongly since early May with strength from all segments, but the largest gains coming from the near-term producers and beaten down juniors. The index has held support recently and just broke out of overhead resistance with yesterday's stellar returns.
The uranium equities did indeed turn on a dime in early May led by near-term producers such as Continental Precious Minerals (CZQ), Laramide (LAM), Mawson Resources (MAW), Powertech Uranium (PWE), UEX Corp. (UEX), Ur-Energy (URE) and explorers which were badly beaten down including JNR Resources (JNN), Santoy Resources (SAN), and Universal Uranium (UUL). Denison Mines Ltd. (DML) has performed quite well among the current producers with Cameco (CCO) and Paladin (PDN) rising as well. True the sector was brutally beaten following the sub-prime mess as hedge funds sold physical stocks of uranium on the spot market pushing the price down and then fund after fund (hedge funds as well as mutual and other investment vehicles) dumped shares as the market trend took us lower and lower. The selling by these funds was illogical as the spot price was roughly 50% above where they began accumulating their investment positions in the equities and the funds which did not have margin requirements needing to be met (think mutual funds, etc.) sold because their positions were down. With the lack of volume it was easy to note where funds were liquidating positions in some of these thinly traded securities and according to our notes, some of these sales actually marked the lows for the securities being traded.
With money trickling back into the market now that the sub-prime crisis fears have largely been averted and investor confidence up, it seems that many of the speculative niche investment strategies of years past are heating up again. Solar stocks have seen a renewed interest after getting clobbered earlier this year and even the hated ethanol players are seeing some buying now. Oil is at all-time highs and the likes of Goldman Sachs and T. Boone Pickens have indicated that it should go higher this year with $141 and $200 being their price targets respectively.
We saw the number of reactors on order/planned rise by nearly 25% this year already with growth coming from across the world. We have the 'old money' of the world (the Western Nations- Canada, France and the U.S.) and the 'new money' (Asia, the Middle East and South America) both striving to add nuclear generating capacity with both anticipating plans for further reactor build-out.
The news is great for long-term investors, and by picking the stocks of companies with resources providing good opportunity for extraction investors could profit handsomely. We would caution those interested to always remember that stocks rise on what we call the 'hopes and dreams' factor and tend to fall on 'realization' factor. Even for those companies achieving their goals, sometimes it does not translate into amazing gains after the speculators dramatically exit. With that said, if the world does move away from fossil fuels powering the vehicle fleet, then one would have to imagine that uranium has a bright future based on its ability to generate large quantities of electricity output and its lack of CO2 emissions.