Potash Arena Shrinking After BHP's Acquisition of Anglo Potash
Tuesday, May 13, 2008
The big news today in the potash arena has to be the fact that BHP Billiton (BHP- NYSE) has purchased their joint venture partner, Anglo Potash Limited (AGP- Vancouver), at C$8.15 per share for a total of C$284 million in cash. For those not familiar with the situation, Anglo Potash owned 25% of a joint venture with BHP Billiton Diamonds Inc., a subsidiary of BHP Billiton. With this transaction, BHP has placed a value on the project of roughly C$1.136 Billion for a project which may come into production in 2014 at the earliest assuming smooth sailing from here on out.
The shareholders of Anglo Potash are being cashed out and thus have no further equity involved in this project unless they reinvest their proceeds from the sale of their shares into BHP, which does not provide the potash exposure that Anglo Potash did. This buyout has the potential to push shares in the junior potash firms much higher now that a firm will cease trading, is being acquired for cash, and the purchasing company has very little exposure to the overall potash market.
Usually mergers in evolving industries with few publicly traded firms tend to push all share prices higher, but with gap in producers and explorers so large, the most upside exposure probably exists in the junior explorers such as Potash One Inc. (KCL- Vancouver), Athabasca Potash Inc. (API- Toronto), Western Potash Corp. (WPX- Vancouver), and Raytec Metals Corp. (RAY- Vancouver). There are some other smaller players with prospective potash lands, but most of these properties are nothing more than moose pasture at this time.
Below is a table of the junior potash explorers: <![if !vml]>

<![endif]>
As you can see, there is much room for the smaller companies to increase their market capitalizations to those of their larger peers. For an industry attracting so much attention due to the world's current food crisis, rising prices for the underlying commodity, and future projections for a tight supply/demand ratio of mined potash and potash demanded by the world's farmers.
We are told that of the above companies listed, two should beat the AGP-BHP joint venture to production. Both Athabasca Potash and Potash One are projected by analysts to open their planned mines in 2013, thus beating the AGP-BHP JV by a year. Mag Industries (MAA- Vancouver), another Canadian listed company with potash claims should open a mine before 2014, although it will be in Democratic Republic of Congo. Mag Inudstries also has plans to spin off its potash subsidiary in a complex financing deal which has already begun. This mine is tentatively scheduled for 2011 according to analysts and will reach full production by 2014.
<![if !vml]>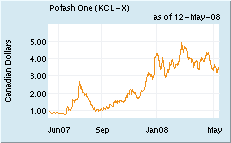 <![endif]>


Potash One is a company which resembles Anglo Potash as they have prospective lands which are very favorable to potash exploration as well as potash resources (Measured and Indicated plus Inferred) which in total roughly equal AGP's 25% equity stake in the BHP joint venture. The stock has experienced much support at the C$3/share level since the end of 2007, and the stock could be poised to move higher given recent industry events and expectations for the future.

<![if !vml]>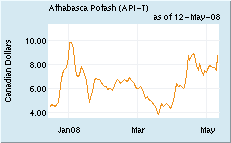 <![endif]>


Athabasca Potash arguably has a larger following among institutional investors as it is traded on the Toronto Stock Exchange and not the Vancouver/Venture. The stock has been volatile since its IPO, but like AGP and KCL, it has resources and prospective lands highly prospective for potash. This stock has probably moved higher due to its Toronto listing and funds' willingness to invest in those equities over the sometimes wild venture stocks.


Western Potash is an interesting play here which just finished its IPO this past Thursday where it raised C$20 million. The company's potash properties are located in Manitoba, which is on the Eastern edge of the potash industry's prolific basin. The company's lands are adjacent to potash holdings of BHP and Agrium and near Potash Corporation of Saskatchewan's Rocanville Mine.
Raytec Metals is the speculative play here with prospective lands for potash exploration and an NI 43-101 Report due out "by the end of May" according to the company. The company has a 'kicker' in uranium claims and a position in iron ore properties. Iron ore is hot money right now, and the uranium industry seems to be rebounding in recent trading. The stock trades below C$1.00 however the stock is liquid and trades between 200,000 to 1,000,000 shares routinely.
Many analysts and experts have predicted great things to come for this industry, and yesterday's BHP acquisition indicates that one of the world's largest miners believes that this is the case. One should watch the junior explorers to see where this new cash injection to the industry eventually flows because as the table in this article shows, it is not a drop in the bucket but a tsunami of funds to the smaller players in this industry.
We will be adding RSS feeds in the next few weeks to the site, so if you would like to receive our daily news on the uranium mining industry, potash mining industry, or our articles, feel free to sign up by clicking the 'Contact Us' link below.