The Week That Was
Friday, April 25, 2008
The past week was packed full with potash/fertilizer industry news. First we had Potash Corp. of Saskatchewan (POT) eclipsing the $200 benchmark, culminating in POT becoming the largest company in Canada by market capitalization. The very next day, Intrepid Potash (IPI), an IPO we have been talking about for some time, debuted on the New York Stock Exchange finishing up 58% for the day. This is on top of raising the number of shares offered in the IPO as well as the pricing of the issue by roughly 50%. Thursday before the open, POT released blowout earnings while also providing higher guidance on future earnings (quarterly and yearly).
<![if !vml]>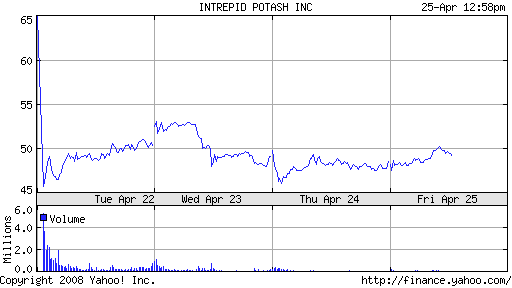 <![endif]>
Intrepid had an impressive debut rising 58%. IPI offers American investors another potash company, pure-play at that, to invest in. Should potash prices continue to rise, one would expect the largest US producer to rise as well.
The whole industry was winded by Thursday, and many of the stocks ended the day down, even though Potash Corp. reported those stunning numbers. We speculated in a previous article that they would need to blow away numbers past the already inflated expectations which had arisen after The Mosaic Company (MOS) reported their earnings earlier this month. It is no secret that the last run-up in share prices for the industry is due to some short squeezes, so it would not surprise us if Thursday's sell-off was in part due to some short sellers re-entering their positions. The $200 puts were popular when POT crossed over, so it would not surprise us if the 'Big Boys' were playing/hedging their bets.
This morning CIBC World Markets maintained their "sector outperform" for Potash Corp. of Saskatchewan. CIBC raised their price target to $275 from $260 while also raising their EPS estimates for 2008 and 2009. CIBC sees EPS in 2008 in the range of $10.22-10.47 and EPS in 2009 from $13.80-18.22. For the record POT sees earnings in 2008 from $9.50-$10.50, so one could read between the lines and reason that POT will raise earnings estimates again next quarter- 'under promise and over deliver'.
<![if !vml]>
<![endif]>
Potash has had an improbable run over the past three months, as depicted in the above chart. A possible breather could be warranted here, such as when the stock hovered around $150. The stock could pull back about $20 and would still be in a bull trend.
We found some interesting notes in the earnings release, which really blew our mind. We knew that Potash controlled most of the world's potash production and held large stakes in many other producers around the world, we had no idea that these stakes amounted to $26.50/share, or roughly $8.6 billion total. If you take this out of the share price, the P/E of Potash Corp. becomes that much more attractive. The company's production estimates for 2008 came in lower than the numbers we use, however their future numbers for 2012 will come in about one million tonnes KCl above our numbers. The company believes that they can get production up to "15.7 million tonnes KCl by the end of 2012." By 2015 they expect to raise their production in Saskatchewan by another 1.5 million tonnes a year.
This indicates that the company's production base will increase by 65% by 2012, which is mind boggling when you consider that in four years a $60 billion plus mining company is going to increase their mined production by over half with the possibility of increasing revenues over that time by 100% (and maybe 200% if current prices hold and/or increase in their market segments).
I cannot think of another time in recent history when a company this large had such ambitious plans, let alone the management team in place to pull it off.
Nearly every type of fertilizer product available has increased in price, with some increasing by nearly 300%. Sales to China plummeted as they did not negotiate a contract in time to receive shipments for the current quarter, so expect increased sales over the next quarter and year as China will need to stock up on fertilizers for the growing season.
Keeping an eye on potential new issues coming to market, watch MagIndustries (MAA-Vancouver MAAFF-US Pinksheets) which has plans to take public its potash subsidiary. It is a complicated transaction and one in which the money has already been raised- now the company is waiting for approval. This could be an attractive potash player as they will be among the next 3 new potash entrants, and the only one in Africa. Once full production is reached, the mine should produce somewhere in the neighborhood of half a million tonnes of KCl per year. If you keep in mind that Intrepid Potash (IPI) has current production of 800,000 tonnes KCl/year, you can easily figure out what the stock could be worth.
If potash stocks can hold their current levels and keep the shorts from re-entering their trades in big ways, further gains could be quite possible sooner rather than later. Mosic (MOS) is one of those such stocks, along with Terra Industries (TRA), Terra Nitrogen (TNH), Agrium (AGU) among others. It was tough not being 'King Potash' (Potash Corp.) or the hot IPO of the week (and probably year) Intrepid Potash, and the fore-mentioned stocks were those taken to the woodshed for some quick take downs.
<![if !vml]>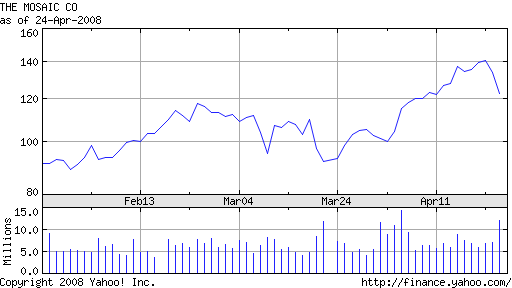 <![endif]>
If Mosaic can hold the $120 level, all should remain rosy for shareholders- be they long-term investors or short-term speculators. If MOS falls below the $105-110 range, technical problems may arise for all shareholders.
Although many new investors have arrived on the potash scene in the last few months, it appears that the long-term story is still intact. Although a pull-back should be in place after these great run-ups, none has occurred as of yet, which leads us to believe that most of these new arrivals are intrepid investors. And thank god for their arrival, because the fresh blood injected enough new money to chase off the potash industry bears which most likely enabled the last pop. Bears remain timid, and will most likely remain on the sidelines in the near future. Watching the options market is one way to gauge when the market believes that the industry is going to have a healthy correction, and Potash Corp. and The Mosaic Co. would be good ones to pay attention to (as they have large followings, are widely known, and highly liquid).
We will be adding RSS feeds in the next few weeks to the site, so if you would like to receive our daily news on the uranium mining industry, potash mining industry, or our articles, feel free to sign up by clicking the 'Contact Us' link below.