Potash Companies Blasting Off
Monday, April 14, 2008
The Mosaic Company (MOS) reported blowout earnings on April 4 due to strong demand from farmers for their agriculture fertilizer products. Earnings increased twelve-fold from the same quarter of last year with the company also increasing its gross margin to 33.9% of net sales from the previous year's gross margin of 8.8%. The market was quite pleased with this and subsequently pushed Mosaic's share price up 20% to new all-time highs.
<![if !vml]>
<![endif]>
Mosaic shares broke out to new highs after an extremely positive earnings report where earnings increased twelve-fold over the previous year's quarter.
Looking forward at the earnings calendar, we see that Potash Corporation of Saskatchewan (POT) will be reporting before the market open on Thursday April 24. Also reporting on that date before the market open will be Terra Industries (TRA) which holds a 75% stake in Terra Nitrogen Company, LP (TNH). One would expect that both companies will deliver strong earnings reports and that Potash Corp. could surprise the market a bit more to the upside than Mosaic if they began selling some of their extra capacity they had begun to hold off of the market last year due to supply constraints related with the 'Russian Sinkhole'. Potash Corp. is the Saudi Arabia of the potash industry as they possess the unique ability to add capacity quicker than any of the other potash companies in the world at this moment. Currently they have plans in place to spend two billion dollars to add capacity over the next few years and cement their status as the world's dominate potash supplier.
<![if !vml]>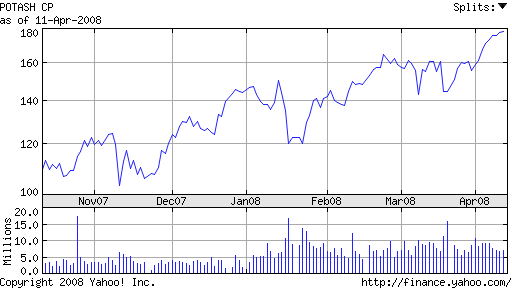 <![endif]>
Mosaic's earnings propelled the entire industry higher, and although investors now are expecting blow-out earnings from Potash Corp. of Saskatchewan now, the company could still come out and blow those inflated expectations out of the water. The stock is already at all-time highs, but with its extra capacity as well as it being the next one to bring more production online, there is room to run.
Also of interest to investors is the fact that Canpotex Limited, an export company owned equally by all three big potash producers in Saskatchewan (Potash Corp. of Saskatchewan, The Mosaic Co. and Agrium Inc.), and its Russian counterpart have been signing ever more profitable contracts abroad with the likes of India, China and Brazil. As the world rushes to grow more food due to the U.S.'s insistence on burning corn for gas rather than feeding the world, more and more fertilizers will be needed to increase crop yields of such crops as corn, soybeans and wheat. As mentioned in previous articles, all three of these crops use their fair share of potash, so it is logical to believe that as the world plants more of these crops that they will also consume more fertilizers.
In the potash industry today investors are faced with two options when picking out a suitable investment: purchasing shares in a current producer or shares in an explorer. There are currently three large producers of potash which derive large percentages of their revenue and profits from it. They are Potash Corp. of Saskatchewan, The Mosaic Co. and Agrium Inc., and all possess mines in Canada's prolific province of Saskatchewan. Coming to market soon via an IPO in the United States will be Intrepid Potash, which mines its potash in the Western United States (two mines in Utah and one in New Mexico). Other options include CF Industries (CF), Terra Industries (TRA) and Terra Nitrogen Company, LP (TNH). Terra Nitrogen pays rich dividends- one that will be lower next year- and requires one to spend a bit more time on their tax return due to the unique nature surrounding how its payouts are accounted for under U.S. tax code.
There are a handful of explorers out there which hold promise, yet none are currently constructing a mine and it will be years before the first comes online. To be specific, the first new Canadian potash mine (not run by one of the 'Big Three') will open no earlier than 2013, or five years from now. The two companies vying to bring mines into production in 2013 are Athabasca Potash(API.TO) and Potash One (KCL.V) with Anglo Potash, formerly Anglo Minerals, (AGP.V) gunning for 2014. These are the most advanced explorers and ones which have a large following among investors.
<![if !vml]>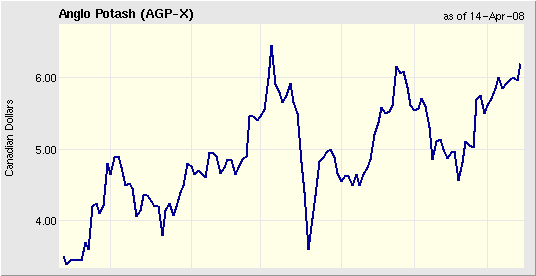 <![endif]>
After setting some support, it seems that Anglo Potash is ready to test its old highs. It is a unique situation where they have a JV with BHP Billiton and are able to use that firm's engineering and exploration expertise. They will also have access to capital later from their much larger partner.
Other stocks with potash exposure include MagIndustries (MAA.V), Raytec Metals (RAY.V) and a few other companies which we will cover in a later article. MagIndustries is in the process of doing an IPO for its potash claims in Africa. The claims are located in the Democratic Republic of Congo, so make of the situation what you want, but they are expected to beat all of the Canadian explorers by two years to production as the projection for their mine opening is 2011. When the mine reaches full capacity it should have annual production of 500,000 lbs. of KCl. Raytec Metals offers investors an interesting play on nearly all things Saskatchewan- they just miss out on the Triple Crown as they do not have oil sands in their portfolio, but the company does possess both uranium claims and potash claims as well. Currently the company has seven of their uranium claims being explored by Triex Minerals and the other ten by Solitaire Minerals. All claims are in the prolific Athabasca Basin and the company has a carried interest as its partners spend on exploration to complete their earn-in process. The company possesses a large land package in and around the Saskatchewan potash mines and deposits and is very prospective for potash. There is one historic area on the company's lands where drilling was conducted and a deposit could potentially exist. The company continues working on this area and it is a main focus. The kicker for Raytec shareholders is the fact that the company also has a land package of iron-ore claims. This completes their tri-fecta of hot mineral holdings and makes it very attractive for a number of investors. The company had a nice run-up in its share price last Thursday and should it take out the $0.80 level it very well could be off to the races. Also of note, the company's shares are very liquid with it trading over 200,000 shares daily with volume rising to the 1,000,000 volume traded level regularly.
<![if !vml]>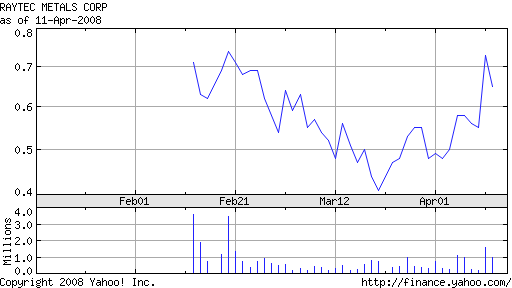 <![endif]>
The stock has recovered to levels seen earlier in the year as more investors hear this new story. One part uranium explorer, another part iron-ore explorer, and third part potash explorer. Right now the potash portion of the company is behind this great story, but at any moment the other two portions could provide a nice 'kicker' to investors should positive news arise.
Investors remain intrigued by commodities and equities involved with commodities. We could see commodity prices fall and share prices rise as investors realize the large amounts of profits still to be had by those firms involved in the process. An interesting point of view here would be to invest in the potash and fertilizer stocks knowing that they are the 'fuel' behind this super-cycle. Much as National Oilwell and other suppliers to the oil industry benefitted from high oil prices, even when they fell, potash companies will reap the same rewards. Even if crop prices hold steady or fall by 10-20%, they will be near all-time highs still and farmers will have to continue to purchase fertilizers to maintain or improve their crop yields. In this game it is not about the absolute price, but rather the relative price. So long as prices remain relatively close to record highs suppliers should continue to perform well, and if crop prices continue to rise for farmers then it should be off to the races for all.
We will be adding RSS feeds in the next few weeks to the site, so if you would like to receive our daily news on the uranium mining industry, potash mining industry, or our articles, feel free to sign up by clicking the 'Contact Us' link below.