The Chinese Are Coming
Friday, April 11, 2008
The past few months have been very hard on the uranium mining industry's equity investors. Many uranium companies' shares are trading near 52-week lows after a handful of problems have crept up for many in the industry. Now that the market seems to have priced in the mining problems at a handful of companies, the fact that many drill results are going to take longer than expected to be examined, and the fact that some companies' treasuries were struck by the sub-prime CDOs which have ravaged many balance sheets, it appears that a bottom may have been reached.
The low prices set by the uranium equities lately have attracted the attention of a few prospective buyers. It seems that the Chinese have finally arrived to the market- as some have expected for years now, much as the French did during the American Revolution. That was a pivotal moment during that war, and if the Chinese are serious about locking up supplies through agreements and acquisitions, then this will be a watershed moment for the uranium mining industry as a whole. This market has been waiting for a catalyst to reverse the current trend, and that moment has potentially arrived as Bloomberg has reported that Chinese officials with China National Nuclear "met with their counterparts" at Cameco Corporation (CCJ). These same officials were quoted as saying that they were looking for deals in the range from, "several hundred million dollars to more than a billion."
This is very positive news regarding the industry as a whole, as the Chinese have finally "tipped" their hand, and should they go through with a deal, will have shown the world that they really are serious about building all of those nuclear power plants they have plans for. Most likely the Chinese would look at a company like Uranium One (UUU.TO) as a takeover target and to Cameco to fill supply needs. A small list of potential candidates the Chinese could purchase is listed below, and all of these companies fall within the range mentioned by the China National Nuclear official.
Potential Take-over Targets for the Chinese:
| | | |
| --- | --- | --- |
| Company | Ticker Symbol | Market Capitalization (Rounded) |
| Denison Mines Ltd. | DML.TO, DNN-AMEX | 1,454,000,000 |
| Forsys Metals Corp. | FSY.TO | 286,000,000 |
| Mega Uranium Ltd. | MGA.TO | 419,000,000 |
| UEX Corporations | UEX.TO | 865,000,000 |
| Uranium One Inc. | UUU.TO | 1,988,000,000 |
Laramide Resources Ltd. (LAM.TO) and Paladin Energy Ltd. (PDN.TO) would both be attractive targets for the Chinese, especially Paladin, however they have already angered the Australians and these two companies are Australian so there is probably not much chance for a deal to get done. Mega is interesting as it is a very well diversified uranium explorer with properties in Australia and Asia which would be enticing to the Chinese as it would supply them with a pipeline of advanced projects close to home.
Cameco is also rumored to be a target for Rio Tinto, which would be an easier combination for the companies as Canada would be less hesitant to allow the merger, but our belief is that you must wait regarding this rumor as Rio Tinto was rumored to want to dump many of their uranium assets to increase returns for shareholders in order to spurn the BHP deal. We leave the door open however, due to the fact that over history the best way to fend off a hostile takeover is to engage in a large merger yourself.
<![if !vml]>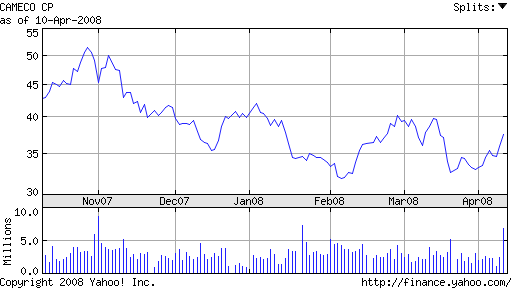 <![endif]>
It should be interesting watching CCJ trade in the next few trading sessions, and if shares can break through $40 and hold, it should become that much more interesting.
Theinvestar's Canadian Uranium Average has fallen to lows not seen since its inception. Sadly we have had to lower the intersection of the X and Y axis further and further down, however this could be a trend which may soon reverse. We are seeing strength among companies which have been stuck at or slightly above their 52-week lows (which incidently are also multi-year lows) as well as a general up-tick among many of these equities. Volatility is creeping up along with share volume, and from those who we talk to, we get the feeling that many investors are coming back to the market at these depressed prices.
Our sources have told us repeatedly over the past few months that many equities were ailing as a result of institutions liquidating their positions. We will not mention any names (neither the companies whose shares were sold off, or the institutions doing the selling) but the institutions were liquidating for tax purposes as well as to raise cash when times were ugly. Unmentioned was that they may have been window dressing, but that is another likely culprit to the recent sell-off. One company stated that some of the institutions had grown tired of holding their shares and had been liquidating whenever possible, thus every rally in its shares was met with another downturn due to selling. New M&A activity in the industry would help bring these institutions back into the fold, but until there are any announced we doubt there will be any large movements of capital back into the market from the institutions.
<![if !vml]>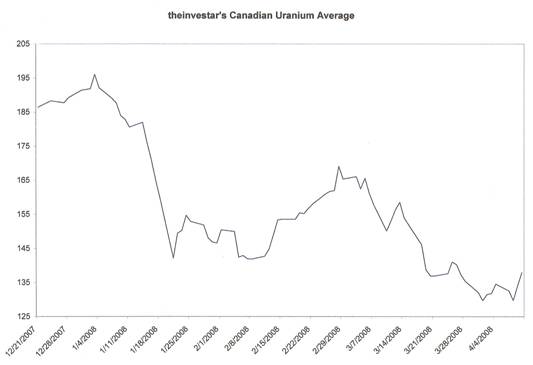 <![endif]>
If recent history is any indication, we could be in for a 10-20% run over the next month barring any further deterioration in the credit and financial markets.
One should take close note of Ur-Energy (URE.TO) which has fallen to lows not seen for nearly two and a half years. The company is moving forward with its Wyoming properties and should bring their first project online in late 2009. It will be an ISR project and the company has indicated that their applications, both on the Federal level and State, are working their way through the review process. By our calculations the company has plenty of cash on hand to bring their first project online and will have plenty of millions left over afterwards to continue bringing projects online. Also of importance is the fact that the company has over $75 million of cash in safe investments.
<![if !vml]>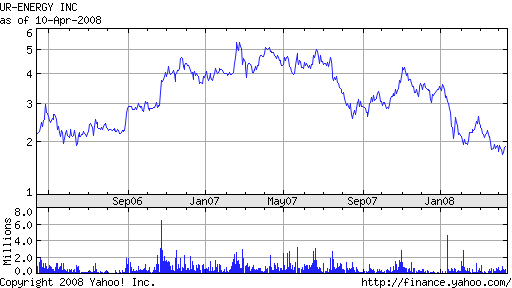 <![endif]>
Much is placed on hopes and dreams, but our feeling is that many investors will be pleasantly surprised when URE signs supply contracts with utilities at prices at or above current long-term prices. Their future mines are in the U.S. (safe geopolitically) and in close proximity compared to other mines located around the world- this demands a premium.
Should China deliver on their talk, we will see much higher volatility in all things uranium. The Canadians will perform much better than the Australian miners as the Australian government and regulators are peeved at the way China has shown disregard for proper procedure as required by their laws. They have already shot down one iron ore merger and the Prime Minister himself supposedly told the Chinese to forget about getting involved with BHP-Billiton. With BHP off-limits and other promising smaller companies, it appears that Australia has moved to "protect" their various mining industries and this includes uranium above all. Remember that Australia wants China to ship back all spent nuclear fuel so that they can guarantee that it is not used in nuclear weapons proliferation, so in our opinion uranium investing- although previously allowed- may be closed to Chinese investment. The Canadians agreed in 2005 to opening up some trade within the mining sector and uranium as well, so the Chinese may see it as 'Open Season' and a window of opportunity to lock up future supplies in order to continue their massive build-out and modernization of their country.
We will be adding RSS feeds in the next few weeks to the site, so if you would like to receive our daily news on the uranium mining industry, potash mining industry, or our articles, feel free to sign up by clicking the 'Contact Us' link below.