Potash: Bull Market Continues
Friday, March 14, 2008
As markets have continued to be weak over the past few weeks, there has been one sector which continues to stand out among the leaders: Agriculture Stocks. Potash Corporation of Saskatchewan, The Mosaic Company, and Agrium Incorporated have powered forward and continued their bullish uptrends. In bear markets, equities which continue higher have serious momentum and legitimate businesses behind them. For the past two years it has been nothing but good news for the North American potash producers, and for the foreseeable future it appears that this trend will continue.
Potash Corp. of Saskatchewan, the largest potash producer in the world, has risen to the $160 level once again and still looks cheap relative to the market using forward earnings. If you were to look at the trailing twelve months earnings and do a price-to-earnings, the stock would look expensive. However, when factoring in that the company is able to now sell the potash it mines at approximately $413/tonne as well as the fact that they are to increase capacity in 2008 by an estimated 15%.
Also helping propel the group higher is the fact that we are now burning corn to power our vehicles. By burning our "extra" or surplus corn the market is left in a very tight supply/demand ratio which provides serious ammunition to the bulls. Currently we are seeing all grains headed higher, which is obviously bullish for fertilizer stocks, especially potash stocks as it is necessary for fertilizers and it itself is reaching a very tight supply/demand ratio. For 2007 the market is estimated to be at about 88% utilization, and the more acres that farmers plant next year, the higher that utilization will go (plus do not forget that some of this utilization will also be increased due to POT adding to their output next year from capacity not being utilized).
According to the United States Department of Agriculture, the two crops which are the largest consumers of potash on a per acres basis are corn and soybeans. Cotton is the third most potash intense crop, however many predict that farmers will plant less cotton acreage in the next season as it is labor and time intensive (much work is required to keep the plants productive and in good shape), but in its place more corn should be substituted according to these experts. So if the experts are correct, each acre which farmers switch from cotton to corn would increase potash use by approximately 8.97%. Suppose that instead of corn, those farmers instead chose to plant soybeans (a substitute for corn and likely if crop rotation was being used as it should), which would leave a net increase of 2.56% per acre converted. This simply looks at the United States' production and does not factor in that farmers around the world would have to pick up the dropped acreage of cotton because around the world in the developing countries it is a known fact that they use far less of the suggested, and in many cases the needed, fertilizers.
<![if !vml]>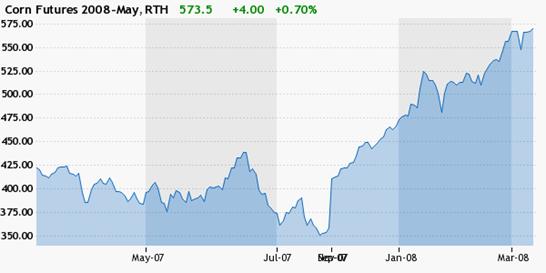 <![endif]>
As the price of corn increases, it becomes more attractive for farmers to plant due to higher prices as well as the ease of growing the crop.
<![if !vml]>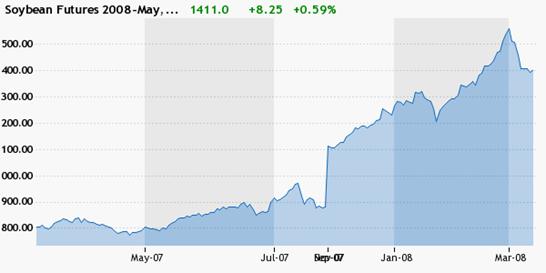 <![endif]>
Soybeans have risen in price as well. Soybeans are a crop which can be grown instead of corn when rotating crops and farmers are likely to grow more on excess acreage not currently used as well if prices remain high. The higher these crops go, the higher the price of potash can be increased.
Canpotex, the exporting arm of the major potash producing companies of Canada (owned equally by Potash Corp. of Saskatchewan, The Mosaic Company, and Agrium Inc.) and BPC, owned by Russian company Uralkali and Belarus's Belaruskali control just over 60% of the world's current production, and this number is only going to grow. These "cartels" are aggressively raising prices and create an OPEC-like figure to "set" prices. Like iron-ore contract prices, potash contracts are resetting at much higher prices than paid in previous years and this should continue into the next few years as the only company adding significant capacity will be Potash Corp. of Saskatchewan.
Although there is the risk that new mines could be opened to fill this tight market in the future, it will take roughly 7-10 years for these mines' production to reach market. The potash market will keep new entrants out, for the most part, until 2011 when the first group on new entrants are planning to open their first mines. Between 2011 and 2015, the market will see at least six new entrants to the industry with half of those located in Canada's prolific Saskatchewan area.
Just like many of the uranium mines located in Saskatchewan, the grades at these mines is very high. However, to get to these high grades the companies must sink shafts a few thousand metres beneath the surface. The mines which use conventional underground mining techniques do run the risk of flooding as the pressure that far beneath surface is great and sandstone is a porous rock (a deadly mixture as noted by Cameco's Cigar Lake Mine, which has flooded twice, and their McArthur River Mine, which flooded a few years ago). There is one underground conventional mine, Potash's Patience Lake, which flooded and was converted to a solution mine. If another miner were to lose production to a flood, however unlikely, markets would react much as they did when Silvinit announced a sinkhole threatened their only rail track from the mine in October 2007 when potash prices increased along with dramatic run-ups in potash mining equities.
The potash miners' stocks seem destined to continue higher if current market trends continue in the fertilizer and agricultural markets. Brazil, Russia, India, and China (BRICs) should help create demand for products using potash through the evolution of their consumer markets as well as the growth and maturing of their agriculture markets continues.
We will be adding RSS feeds in the next few weeks to the site, so if you would like to receive our daily news on the uranium mining industry, potash mining industry, or our articles, feel free to sign up by clicking the 'Contact Us' link below.