Bright Future for Potash
Friday, January 11, 2008
In the past year many have discovered that the farming stocks, be they those who grow the crops or the companies who manufacture the seed or even those who supply the fertilizers, have been nothing but stellar, to say the least. Deere (DE) nearly doubled last year, with Monsanto nearly tripling, and Archer Daniel Midland up roughly 50%. As impressive as these gains were, the most spectacular were found in the fertilizer industry, particularly those stocks involved in the process of mining potash. Among the larger companies who have exposure to potash:
-Agrium Inc. was up roughly 130% last year moving from $30 to $70 per share. The company is a diversified fertilizer company with about 15% of their revenues derived from potash.
<![if !vml]>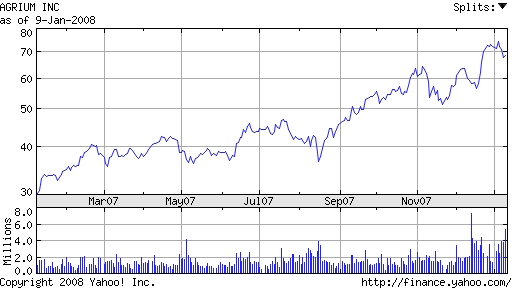 <![endif]>
-The Mosaic Co. saw its price appreciate from $20 to $95 last year providing a return of roughly 375%. Potash makes up nearly 25% of their revenues. The company's potash production capabilities are second-largest in the world.
<![if !vml]>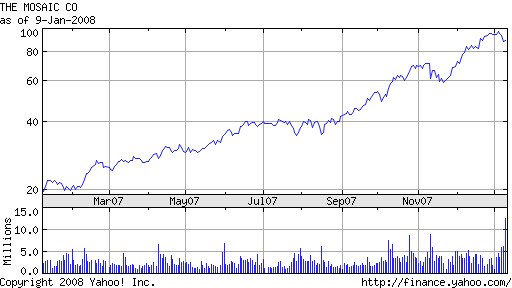 <![endif]>
-Potash Corp. of Saskatchewan, Inc. was another stellar performer. Its stock rose from $44 to $150 in 2007 giving its investors an annual return of about 240%. POT is the largest potash producer and is regarded as the Saudi Arabia of potash, much like Cameco is in the uranium sector.
<![if !vml]>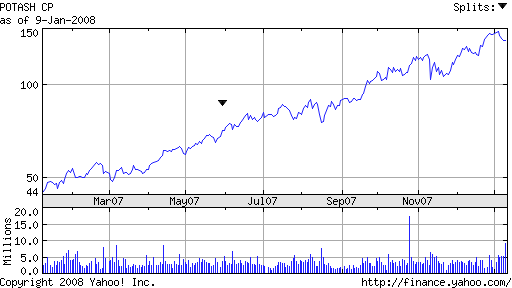 <![endif]>
Many of the junior potash explorers, none of which are in production at the time, provided investors with amazing returns last year. There are not many of them out there, but three which are traded in Canada are Anglo Minerals Ltd. (ALM.v), Athabasca Potash (API.to) and Potash One (KCL.v). All three companies have land positions in the province of Saskatchewan and these lands border on the lands where the big boys have their mines set up. A new potash mine has not been built in Canada in nearly 30 years, which is probably a result of a past law where the government could nationalize the industry if it so chose. This law has since been repealed (recently I must add), and should provide investors with more companies to invest their money in the not too distant future.
The price of potash has been enfuego lately as farmers are purchasing more fertilizers to increase the yields of their lands. The spot price of potash increased from $175 to $303 over the course of 2007, and as it stands now Standard is trading at $303 a tonne and Granular at $318 a tonne ($US/tonne FOB Vancouver). Although it was up almost 100% in 2007, with the demand situation only getting better from a producer's standpoint, prices should continue to rise as more and more farmers begin to grow crops needing the nutrients provided by fertilizers.
This has set off the speculation in the juniors we discussed earlier, and should it continue to rise one will continue to experience gains in these juniors. It is something we have learned over the years, where juniors are highly leveraged to rises in their commodities regardless of whether they have any production. We are encouraged by the low float found for many of these juniors and believe that even with further offerings that these companies will continue to possess a low float for a few years out.
Many of these juniors have already experienced dramatic increases in their prices, but we are still early in the game. We have a new initial public offering in the past 4 months or so as Intrepid Potash has announced plans to raise up to $100 million with Morgan Stanley doing the underwriting. Intrepid Potash is the largest potash miner in the United States with assets in both New Mexico and Utah. Although in recent days many potash stocks have pulled back, we would like to point out that Athabasca Potash, which trades on the Toronto Stock Exchange under the symbol of API, initially rose more than 100% in the months following its IPO.
Potash One, which trades in Vancouver under the symbol of KCL, has also risen dramatically in the past 52 weeks. As the stock chart below indicates, the stock appreciated from around C$.5 to approximately C$4.28 at the close of 2007. It is a heck of a chart, moving from the lower left to the upper right of the graph but one must remember with this being a non-producing junior the stock price will continue to be volatile both up and down.
<![if !vml]>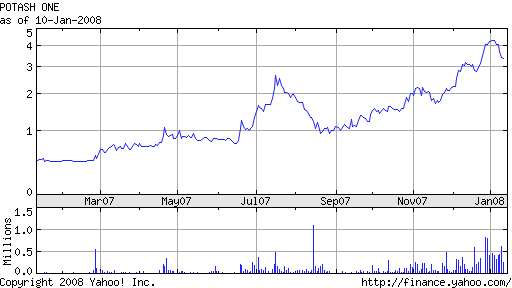 <![endif]>
Anglo Minerals Ltd. has an agreement with BHP Billiton whereby BHP has the right to earn into the project (75%) with Anglo having a carried interest (in the amount of 25%) in the land package for either the first $40 million (which must be spent buy 2011) or upon completion of a bankable feasibility study, whichever occurs first. This company has a prolific land position as well as a highly qualified partner with arguable more mining expertise than any other company in the world. Anglo is an interesting play and reminds us of Pitchstone Exploration (PXP.v) where the company possessed a low float (in Anglo's case it is 34,765,925 fully diluted but with a float of 31,665,925) and a large joint venture partner footing the bill for the projects early on. Basically Anglo Minerals has a call option on the project and needs not raise money for three years it appears, however with the stock price appreciation one would imagine that they will issue further options to employees for compensation purposes. This most certainly will be one to watch going forward in the next few years and could appreciate dramatically higher as more investors discover it.
<![if !vml]>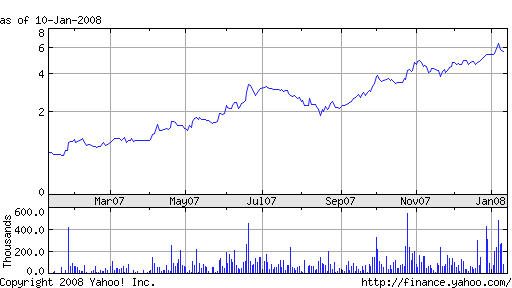 <![endif]>
Another chart where the trend is from the lower left to the upper right...there is a trend with potash and it is most certainly up!
We will continue to update this section of our site much as we have our uranium section. In the next few weeks we will also be adding more pages and applications as well. Feel free to check out our potash news section updated daily by clicking here.