Positive News for Uranium Stocks
Wednesday, October 31, 2007
The Federal Reserve meets today, and the market is betting that a rate cut is indeed in the cards. Most agree that it will be a 25 basis-point cut. It is our belief that the Fed should probably hold steady here with rates, but speak in overly dovish terms to assure the markets that they are still keeping a close eye on the current situation in the credit markets.
This really is not uranium talk, so some may think this is unimportant, however it is very relevant to our investment thesis. If rates go lower, many investors will become more tempted to speculate with cheaper margin rates and the higher returns offered by equities.
The uranium equities have emerged from the ashes of the summer's fallout, and have formed a powerful uptrend, as is illustrated by our proprietary uranium index. We believe that this is the beginning of another bull run and that there are larger gains ahead. Selling into strength is not our game plan as we are so close to a large breakout. We believe this is the case after looking at the data from the index and how it reacts when around technical areas, but remember always that no one ever lost money taking profits.
<![if !vml]>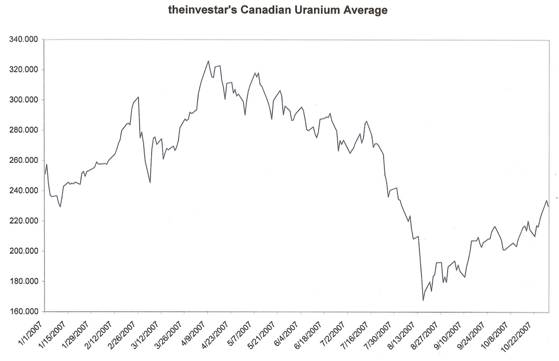 <![endif]>
Higher highs and lower lows. What's not to like about that? Money is beginning to flow back into the sector, and just as important news flow is picking up due to the current drill season.
The fundamentals have changed so much in the past few months that our sources tell us that the big money is moving into the junior uranium explorers now. In fact it started nearly a month ago, but we sat tight as we would rather see the dog wag the tail rather than vice-versa. Bluerock Resources (BRD.v) is one such example that experienced unusually high volume as a certain fund manager was moving into the company's stock. From what has been conveyed to us, as well as what we could physically see on the ticker, this manager bought between 500,000 and 1,000,000 shares which effectively established a put for the stock back in the mid C$0.30 range.
<![if !vml]>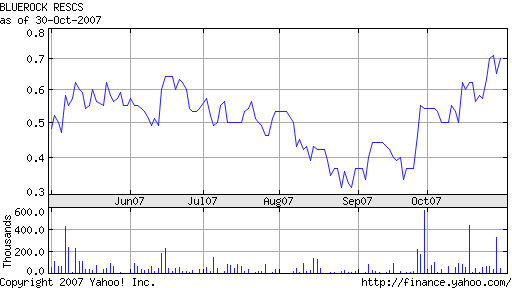 <![endif]>
Institutional buyers stepped up to the plate on BRD in late September. Notice the high volume and significant jump in stock price.
Past history with the uranium equities, as well as our general investing knowledge, indicate that the place to invest currently would include the current producers as well as those who will very shortly be opening mines. To clarify this point we would categorize these companies as those opening mines before 2010, this may sound like a long time, however in the mining world it is anything but. These stocks are the safest (in a group of very speculative equities) in this young new cycle, and shall remain so most likely for years to come as this industry is rebuilding itself literally from the ground up. So each time the fund managers decide that they would like to invest in the uranium arena, they will most likely start at or near the top and work their way down to the pure exploration plays.
Stocks to watch for the first surge when the managers do begin to move into the uranium sector include Mega Uranium (MGA.to), Forsys Metals (FSY.to), Paladin Resources (PDN.to), Laramide Resources (LAM.to), Ur-Energy (URE.to), Denison Mines (DML.to) and Uranium One (UUU.to). These are the leaders of the pure-play uranium mining industry after Cameco and Areva and have traditionally risen before the whole sector takes off.
The Australian and Canadian Dollars have displayed strength over the past few weeks, and this trend should continue as long as the US Federal Reserve proceeds to lower rates, or allows the market to believe that they are in a dovish state regarding interest rates. The Australian Dollar broke through the US$.90 level recently and now is trading at the US$.92 area.
Wall Street "insiders" are claiming that all commodities are currently moving higher because the US Dollar is moving lower relative to other major currencies of the world, and should the Fed move rates lower we will see a rise in commodities across the board. As witnessed yesterday, oil took a healthy hit and it might very well be a situation where people bought on the rumor and are selling on the news (the news being that over 80% are betting that the Fed will lower by 25 basis-points). While oil and other commodities have risen, uranium seems to have bottomed out and is beginning another rise upwards. We have stated before and will reiterate that uranium prices will have to go higher still in order to make many of today's deposits economical to advance, otherwise the nuclear plants under construction and those on the drawing board will not have a supply of nuclear fuel to generate the power demanded by their clients.